New website launched
On December 1st we re-launched Yr. Many of you know the new version from before, from mobile apps, but for some it will be a huge transition.
Why new website?
Digital services have a limited lifespan unless they are updated and improved, and this also applies to yr.no. It is almost 10 years since we did a major usability upgrade, although during these years we have made improvements and updates, and created new apps.
For those of you who miss specific services on the new website, we will not stop developing Yr on December 1st. We will launch more services during the upcoming year, and we ensure you that we will further develop the website. We encourage our users to get in touch with us with improvement suggestions.
Everyone should have access to Yr
It's not just the look and feel of the new website that is different. We have worked a lot with usability and accessibility. We now lauch a website that is simplified so that it works better for people with disabilities or difficultios to see. Also if you have challenges with your landline or the internet connection, the new website is better adapted and require less data capacity.
Thanks to all of you who use Yr
We are proud that Yr now is becoming more accessible to everyone, and would therefore like to thank our contributors. To all of you responding to our user surveys and providing input. Without you, without our users, we would not have made it. Thanks for your great help!
This is new
For some of you, the new website is a significant transition, so here is an overview of what is new.
Weather forecast updated every 5 minutes
We have a 90-minute weather forecast located at top of the forecast which is updated every 5 minutes called Current conditions. This is a weather forecast for short time planning and for everyone in need of frequent updates about the weather.

Special warnings for mountain passes
From the frontpage of the new website you will find three services that apply to larger areas (in Norway).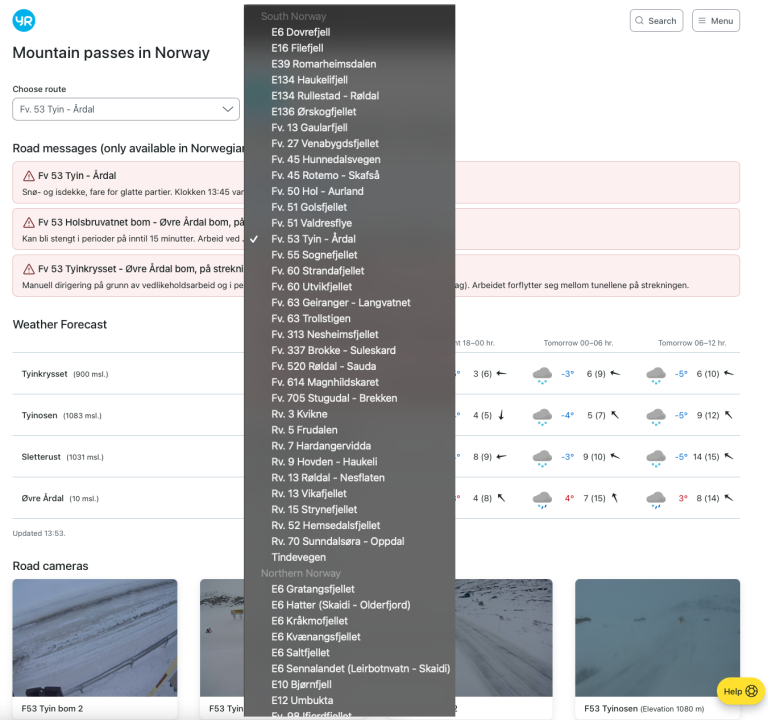 Severe and extreme weather warnings
All issued warnings are displayed on an overview page called weather warnings.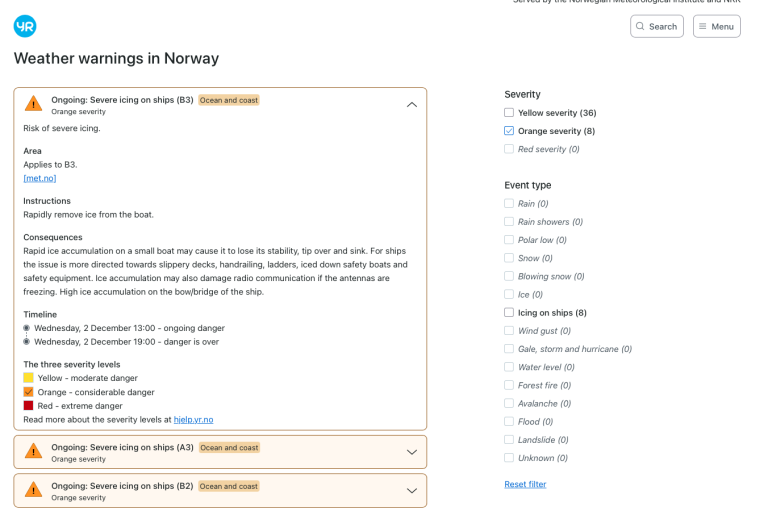 Snow depths
You will also find a useful table showing latest snowfall and snow depth over the last three days.

Wind gusts
Wind gusts now appear in the weather forecast just beside wind when you look at the weather hour by hour. You need to click on a day to access the weather hour by hour!
Nearby
Nearby is a new service similar to Around You that some of you recognize from the apps. Here you will find, among other things, the nearest measuring stations and special warnings such as UV warnings and air pollution.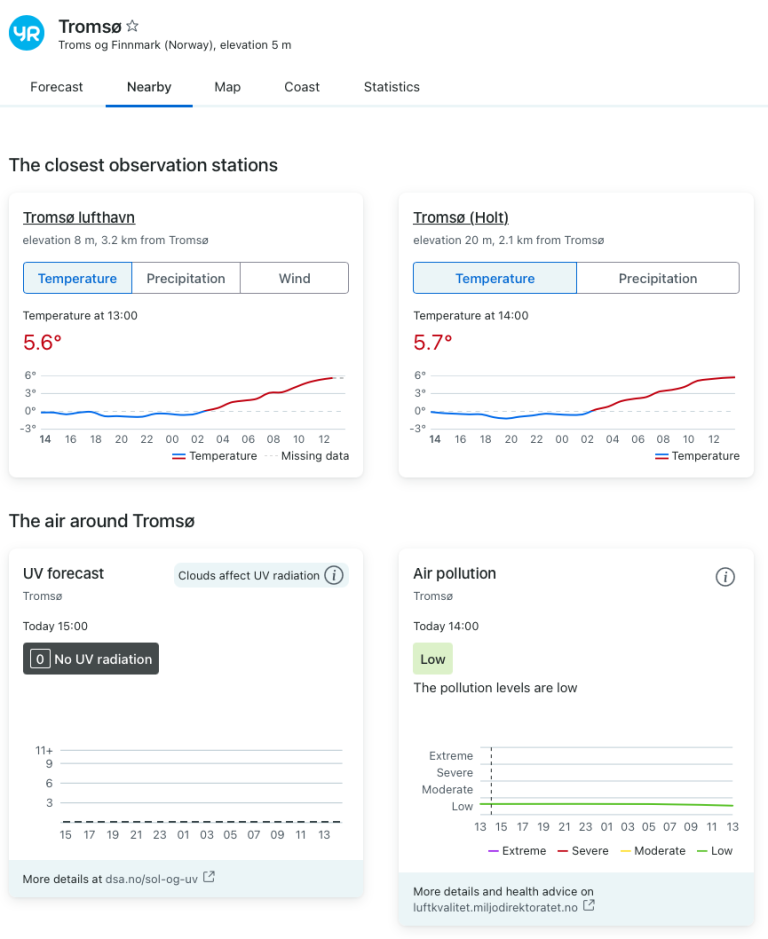 Coast
Coastal weather forecasts and warnings have a spesific section on Yr. We show wave height for nearby sea points, closest observations and calculated tides. This section is under development and more services will be added.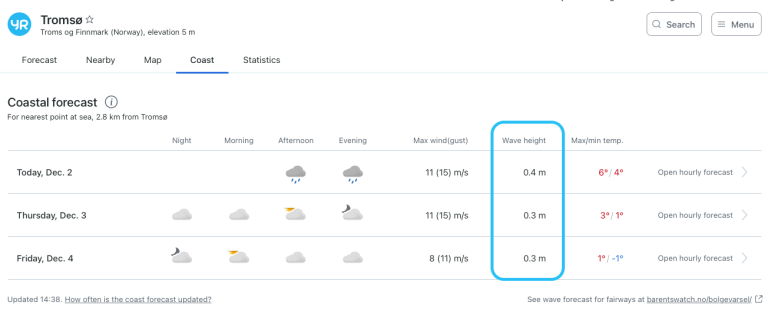 Statistics
This was one of the first new services launched, so many of you already know it. Entering statistics you get an overview of how much it snowed, how cold it was or you can also search for weather on specific dates.
Where is the content on the old Yr?
Some of you will probably miss the old website and some special forecasts such as the meteorologist's forecast map, text forecasts and sattellite images. We can reassure you that this content still will be available from the new websites with links to the old one.
At the bottom of the new website we link to some of the content on the old website that are currently only available there.

We hope that everyone takes time to get to know the new Yr and if there are questions you will find our contacts listed here.
From all of us, to all of you: Have e great Christmas Time!
Contact
Team leader Yr (The NRK)
Anette Svee Wilberg
T: +47 402 12 613
Team leader Yr (MET Norway)
Anders Doksæter Sivle
T: +47 992 27 044